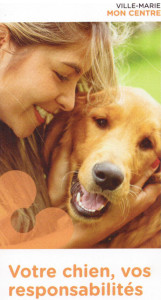 Although the majority of pet owners are responsible it is important to remind everyone of the regulations in Ville-Marie in regards to owning a pet. These regulations are in place for health and safety as well as respect to other citizens. We all want to enjoy our pets but we must be aware of the regulations and abide by them.
Regulations:
· All dogs must be kept on a leash at all times unless in a dedicated dog park
· All dog owners must pick-up after their pets
· At all times dog owners must have a bag with them to pick up after the dog. You may be stopped and asked to provide a bag by an inspector
· All dogs must have a tag/permit issued by the city. Details where you can pick-up the tag is attached
· Dogs are not permitted in children's playgrounds at any time
A breach of any of the regulations may result in a $ 100 to $ 300 fine for each offence and as much as $500 to $1,000 fine for each offence in the case of second offense. The canine patrol officer or police officers can issue these tickets.
Due to the growing number of complaints there will be increased surveillance by the Canine Patrol as well as the police in the area and tickets issued as required.
For complete details on animal regulations please visit: ville.montreal.qc.ca/villemarie
Please share this with others.
Thanks