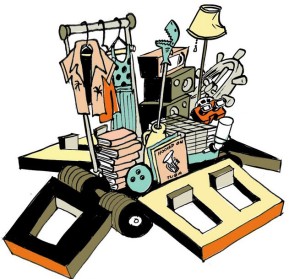 Each year our street-wide garage sale is more successful and it will be great to make this event even better with more residents participating. It really can be a fun day, you will be able to clear away unwanted items and make money too!
The garage sale will be advertised on various internet websites, CJAD radio and signage placed around the area the morning of the garage sale.
Preparation
Start planning now! Spring is a great time to go through cupboards, closets, garage and boxes for those items no longer used or needed.
Invite your friends and family to participate with you. A garage sale can be a lot of fun day and the more the merrier.
Tell your friends about the garage sale
Have your children involved selling lemonade etc. It can be great fun for them too and they will feel part of it!
Have a calculator ready
Have newspaper available to wrap breakable items
Have plastic bags for items
All items should be priced
If you are selling electrical items such as appliance s and electronics, have a power source/extension cord available to test the items.
Have some inexpensive plastic coverings in case of rain
Set-up early (7am-8am). People will start visiting early looking for the best items.
Tips & Tricks
Make it a party or a "fair" like day. If it looks like you are having fun and have lots to offer you will attract more people.
Don't underestimate your items you will be surprised what and why people will buy. It may be "junk" to you but a treasure for someone else.
Have plenty of change available. $50 is recommended of $5 bills, $2, $1, .25, .10 and .05 coins
Never use a cash box, keep your money in a money belt or on your person
Try not to accept large bills, save your change
Beware of some early birds. Some are antique dealers and some have stores and will bargain hard.
Children's clothing and toys sell well. Recently cleaned is recommended. Be prepared to give them away after the garage sale.
Adult clothing does not sell as well as children's so you should price accordingly and be prepared to give to your preferred charity at the end of the day.
Put large items in front, it looks good when people drive by.
As items sell keep moving items to the front to give appearance that you have a lot of items.
Do not take money bills before you give the change. This will prevent people saying you gave the wrong change.
Never let ANYONE use your bathroom under any circumstances
Keep your front door and patio door locked and your kitchen window closed if there is easy access to your backyard! If your garage door is open be sure to block off areas that people should not enter and keep a close watch.
Don't put items aside because someone liked them but does not have enough money and will return. If you wish ask for a good deposit and specify that you will hold them until a specified time only.
Think twice before break a set of two, for or six. Someone may want the entire set.
Don't let people try out clothing. All sales final, no returns.
Watch people with large bags or backpacks. Some may only appear innocent
Be aware of someone lingering around the same spot. They might be waiting for the right moment.
Remember that "Dollar Stores" are your competitors. Don't ask for unreasonable prices.
Don't be offended if someone challenges your prices, it part of the game. You may want to ask yourself if you are priced too high.
Decide what you will want to do as the day progresses. If you don't want to store the items another year consider marking the prices down further in the afternoon. I like to think the items in the sale are leaving for good and I don't want to see them again.
Liven up your garage sale with music, balloons etc. It will attract people and make time go faster.
Keep a sense of humor during the day and get ready to bargain and have fun!
Good Luck !