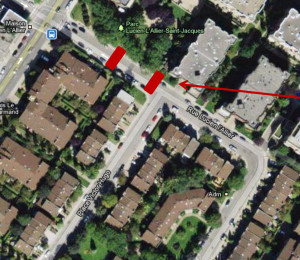 We have had many discussions regarding traffic circulation on Victor Hugo and Lucien L'Allier.
Through these discussions we have been successful implementing modified parking hours to reduce the number of transient people parking on the street to reduce traffic and a crosswalk / stop line at Victor Hugo/Versailles to try to have more vehicles stop at the stop sign.
Discussions have also taken place, along with another concerned resident, with the SPVM to work together on other alternatives and solutions.  Since the first discussion there have been follow-up discussions with the SPVMC when they have been on the street.  The police department are doing their best however drivers seem to only obey the laws when a marked vehicle is present on the street which may not be the best use of their resources.
With all efforts that have been made we still continue to have a major security issue with speeding along Lucien L'Allier as vehicles try to get to the stop lights before they turn red.  This is an extremely dangerous situation since there is a children's park situated at this corner, many pedestrians and a Bixi stand.  With the new park scheduled to open in November more children and families (including the local day cares) can be expected in the area to enjoy the park.
We have discussed that a major cause of this traffic along Lucien L'Allier is a result of vehicles that use this road as a short cut from Notre Dame (eastbound) to St. Jacques (eastbound), albeit some residents in the adjacent condos are not without blame.  These vehicles are trying to avoid traffic on Notre Dame and are usually in a rush therefore speeding.  This area is also clearly marked as a 30km/h zone due to the park however the speed limit is just as clearly ignored.
With all the efforts that have been made we, the residents of Victor Hugo/Lucien L'Allier would again ask that the city to please consider a speed bump on Lucien L'Allier and Victor Hugo where the park begins.  It is quite apparent that signage to re-enforce the laws are being ignored and that the only thing that will slow traffic is a physical deterrent.  A picture of the recommended location of a speed bump is included.
It is important to restate that this part of Lucien L'Allier is a one-way exit and is not an emergency entrance that would impede emergency vehicles entering Victor Hugo/Lucien L'Allier in the case of an emergency.
We look forward to working with the city to come to a solution with this dangerous and terribly frustrating situation on this street.  It is extremely important that this street is safe for the children and residents using the park.